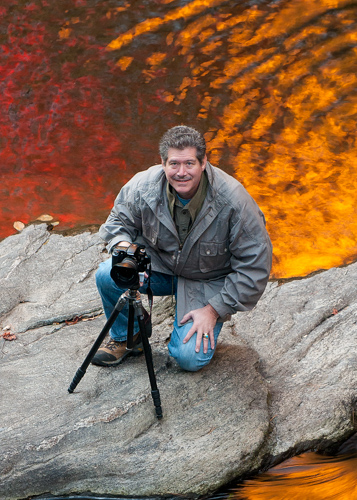 Cal in the Chattooga River
Welcome to what I consider my best photos. As an amateur in both photography and blogging, I have created this site that combines two passions -- technology and photography. This site gives me the chance to improve both. I hope you enjoy the photos. And if you have any suggestions please send me
an email
.
In 2000, I began developing a family website as an extension of my work in Information Technology. In 2004 I bought a point-and-shoot Canon digital camera and began looking for ways to showcase photography on the website. But the project was about the web not the photos.
In 2006, I decided concentrate on my photography and purchased a Canon DSLR. Since then, I have studied ways to improve on both composition and my technique. The websites I develop as a hobby now support my photography and our adventures. I created this site myself and host the site at home. I just changed it over to be more mobile friendly with responsive pages to scale up or down based on your device - so hopefully you are using on your phone.
I have been experimenting with Geo Tagging so many of the photos have a link to use Google Earth to fly you to the location of the spot the picture was taken. As we travel I use a site called
Location Scout
to find compositions in the areas I am visiting - very good tool along with Google. I find using Google Earth to explore sites. For understanding the sunrise/sunset and moon I use a program called
Ephemeris Photo
. This app can be used on smaller iOS devices like iPads and iPhones. Very handy in the field. For tracking the stars and finding where the milky way is going to appear, I use
Stellarium Astronomy Software
.
All of my photos are on
my personal site
along with several portfolios of various family trips and specific location shots. the scrapbook has photos going way back - plus quite a bit of family info that's far more than you care to know about. The site is
www.calandva.com
.
In 2008, I began using Flickr and joined the photographic social network. In 2020 I joined Instagram as well and now post to both. It has been fun and a lot of work - commenting and reviewing great photos from all over the world. If you are a photographer you should be on Flickr/Instagram - it helps to see how others view a scene and compose their pictures.
You can find me on Flickr:
Cal Holman
and on Instagram:
Cal Holman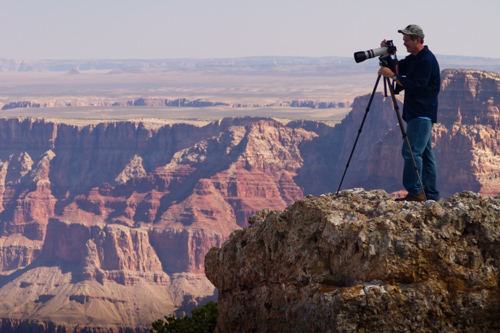 Cal on the South Rim of Grand Canyon
My equipment:
Canon R5
Canon 5D Mark IV
Canon 5D Mark III
EF 16-35mm f/2.8L III USM Lens
EF 24-105mm f/4L IS USM
EF 70-200mm f/4L IS USM
EF 100mm f/2.8 USM Macro
EF 100-400mm f/4.5-5.6L IS USM
RF 100-500mm f/4.5-7.1L IS USM Lens RF 24-105mm f/4L IS USM Lens
For editing I use Lightroom is a great program for taking a RAW files and can read the camera and lens applying adjustments specific to the camera/lens - like distortion, vignetting, softness and aberrations. I also use a very small number of features in Photoshop for touch up and make editing changes to photos. photo editing. If you are a big iPad or iPhone user lightroom also can be loaded to those devices.
If you want to keep you photos in case of disaster you need external storageots . There are lots of options. I use several dual drive and one four bay drive made by
Synology
The software is easy to use – again Google best NAS. I buy all my Synology equipment on Amazon including the drives – you need to buy drives for the synology as it is only the shell. Photo editing workflow – from downloading to choosing to editing to storing your photographs is an art – and then backing up can be as challenging. With a single NAS it is pretty easy.
I use
Photomatix
to capture high contrast photos and render HDR photos. HDR can be complex, but they have tutorials on the site to help. You need to be careful not to over do it - it is easy to make your photos have a bit of an unrealistic look. So play with the settings on "Tone Mapping" to achieve the desired effect. I have a setting file I use and can email to you if you like.
I now have several tripods I use - a good tripod is critical so purchase the best one you can.
Gitzo GT2541L Series 2 Mountaineer - one of my original "good" tripods. Not sure they make it anymore - it has been good even with my 100-400mm lens.
A heavy, no center column, tripod used for landscape is my Gitzo GT4543LSUS Lightweight Systematic Tripod SER.5 4S XL, Black
I picked up this tripod because it has the ability to shift its center column from vertical to horizontal - i use it a lot with macro shooting as i can get real low and move right over subjects. Benro SystemGo Plus Aluminum Tripod with Monopod Conversion series 2
For travel iI chose a light weight carbon fiber tripod which has been great - it has been a great addition. Sirui T-2205X 5-Section Carbon Fiber Tripod
I use two ball heads from
Really Right Stuff
. One is light weight for travel and one heaver for landscapes closer to home. I would also suggest an "L" bracket from
Really Right Stuff
for your camera - they are specific to the camera model. It is expensive but after 4 heads this is the best I have used.
This book is great -
Understanding Exposure: How to Shoot Great Photographs with a Film or Digital Camera
. It helped me move to Manual mode and understand my camera. He probably has newer editions now so look for the most recent on exposure. Thank you Bryan Peterson.
Now I use Aperture mode most the time, Shutter mode when shooting hummingbirds and action, and Manual when the other two fail to capture the light in the composition correctly.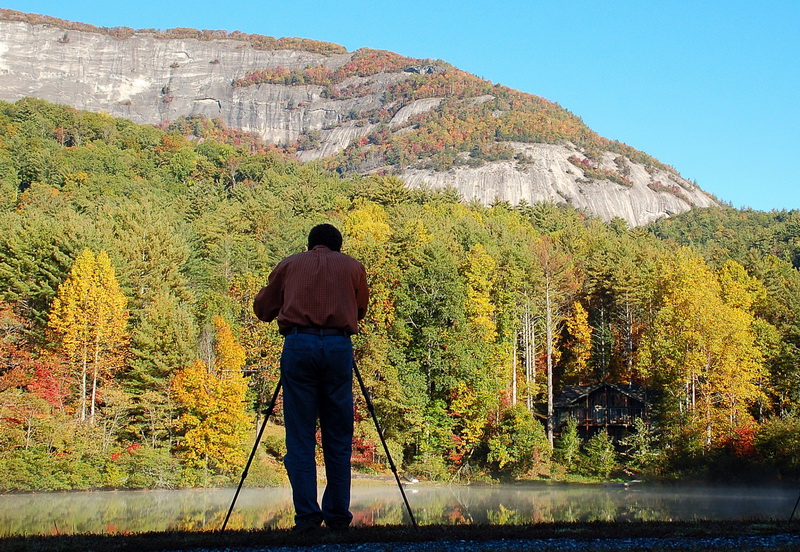 Cal near Highlands, NC Taken by Mark W. Hutchison